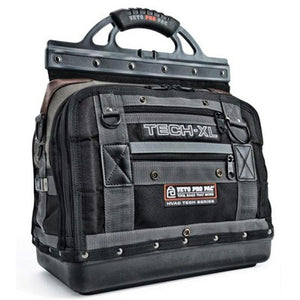 TECH-XL Full Size Tool Bag for Technicians
The TECH-XL can hold a LOT of tools. If you prefer a bag with a big capacity, and don't mind carrying the weight of being extra prepared for the job, then the TECH-XL is the bag for you. The bags we used before switching to Veto all had one problem in common: The handles weren't sturdy enough to survive the abuse. If you've had that problem, then you will appreciate the monster handles on the Veto bags. If you need something a little smaller and lighter, then check out the TECH-LC or the TECH-MCT.
  Due to high shipping costs, these bags are only available in the USA
Also we are only able to send these via UPS

"My Veto Pro Pac bags have endured years of piano work without any issues. They don't just hold a lot of tools, but they keep things well organized and uncluttered, and the vertical pockets make it easy to grab the right tool without having to search for it."
-Cy Shuster, RPT



---
---
PRODUCT SPECIFICATIONS:
Width: 9.85"
Length: 16.5"
Height: 20.75" (15" with handle folded down)
Weight (empty): 9.4 lbs.
MAXIMIZED TOOL STORAGE CAPACITY:
Vertical Tool Pockets: 80 interior and exterior pockets of various sizes
Neoprene Pockets: 2 Large, 3 Medium and 9 Small
D-Rings: 4 large and 5 small 8"
Electrical Tape Strap Stainless Steel Tape Clip: Yes
RUGGED MATERIALS & CONSTRUCTION:
Waterproof Base: 3mm Injection Molded Polypropylene
Waterproof Body Fabric: 1800 PVC Impregnated Denier Nylon
Waterproof Tool Pocket Fabric: 1800 PVC Impregnated Denier Nylon
Handle: Injection Molded Nylon Plastic w/ over-molded ergonomic rubber grip
Zippers: Double Stitched, Heavy Duty Plastic Coil Zippers with Oversized Zipper Tabs
Fold-Back Snaps: 6 zinc, marine grade
D-Rings: Powder Coated Steel
Rivets: 38 zinc, marine grade rivets
Stitching: Industrial Strength Double Nylon Stitching
OTHER FEATURES:
Shoulder Strap: Extra-Wide, Heavy Duty, Padded Shoulder Strap Clips onto Handle
Warranty: 5 Years