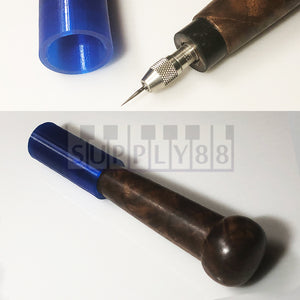 This item requires measurements and a photo before we can custom-make cover (see note below).

If you are lucky enough to own one of these beautiful Cherry Tree single-needle voicing tools made by Boaz Kirschenbaum, this protective cover can save you from unwanted bloodshed as you reach into the tool bag, and also protect the needle from damage.


These tools are hand made, so they are not all the same. We will need dimensions of your tool to create yours, as well as a photograph of the side profile of the tool and handle. Please send the photo and dimensions to dimensions@supply88.com.

The important dimensions we need are:
1. Diameter of the black cylinder between the wood handle and steel pin holder.
2. Smallest diameter of wood handle where it tapers toward the black cylinder.
3. Diameter of wood handle 3/8" from the previous measurement.