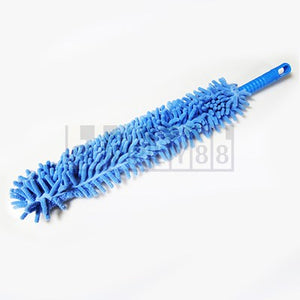 The Bass Tool makes quick work of the bass section:
It easily covers the open areas of the soundboard, and fits under the bass strings of most grand pianos. The bass tool has a plastic handle with a flat, flexible core that you can bend to shape. The cover is a washable and re-useable microfiber material.
This is a general-purpose dusting tool that can be used for many dusting and cleaning applications, such as daily dusting of piano lids in a dealership showroom.
Tool is about 22" total length including handle.