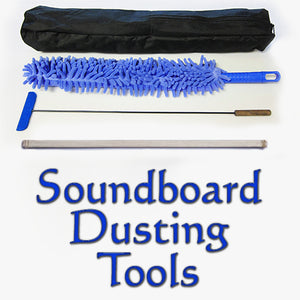 Coming Back Soon
The Soundboard Dust Remover tools from Supply88 make your cleaning jobs much faster and easier.
Use the tools to wipe the dust from the surface of a grand piano soundboard, and use a vacuum attachment to clean the dust from the tool after each pass. These tools are approximately 20 inches long.
Welded Tenor Tool:
Features welded steel construction, flexible shaft, 100% wool dusting surface, hardwood handle, and plastic coating on the shaft to protect the piano.

NEW FEATURE (see second image below):  The flat steel blade is now edged with polyurethane before covering with felt. If the felt ever wears through from heavy use, this will prevent damage to the soundboard. This edge protector will also increase the service life of the felt.*

To use the Tenor Tool, insert it between the strings, and turn it 90 degrees to drag along the soundboard surface to pick up dust. Turn the tool 90 degrees again to lift above the strings to vacuum the dust from the tool, and repeat as necessary. The flexible steel shaft makes it easier to cover more soundboard area during each pass. Do not use fluids or chemicals, as they can damage the felt.

*If the felt wears through from heavy use, it can be replaced with new 1/16" felt (please contact us for re-felting instructions).

Treble Dusting Tool:
This new version of the flexible steel Treble Tool is covered with a braided cotton sleeve, reinforced on each end with stitching. This tool is for dusting hard-to-reach areas, like under the "sound holes" in the plate, and the narrow part of the soundboard near the treble bridge.

Microfiber Bass Tool:
This tool makes quick work of the bass section: It easily covers the open areas of the soundboard, and fits under the bass strings of most grand pianos. Features a plastic handle with a flat, flexible core that you can bend to shape. The cover is a washable, microfiber material. This is a general-purpose dusting tool that can be used for many applications besides soundboards.

 Carrying Bag:
The 22" long carrying bag holds the above three tools with room to spare for other items.